If your pet is scheduled for surgery at our veterinary hospital, our veterinarians in Durham and Chapel Hill understand that this can be a stressful and anxious experience. It is natural to worry about how to prepare your pet for surgery, what to expect during the procedure, and how best to care for your pet following the operation. Our veterinarians in Chapel Hill and Durham are very committed to providing the highest quality surgical pet care. We are here to provide complete care instructions and support you through each stage in the process.
Pet Surgery at our Veterinary Hospital serving Durham and Chapel Hill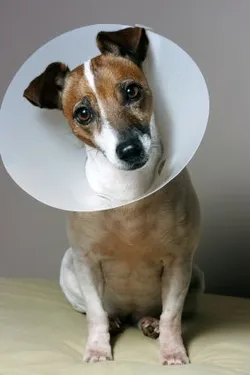 Before our veterinary professionals schedule your pet for surgery, we will first discuss all treatment options in detail with you. We understand that even a routine surgical procedure can be a stressful and nerve-wracking experience. Our veterinarian will go over each step of the process so you know exactly what to expect. We will also conduct pre-operative blood work. This blood work will ensure that it is safe to administer anesthesia to your pet.
Prior to surgery, we recommend no food within approximately 12 hours. We typically schedule surgical procedures for early morning. This means you can feed your pet a full dinner but no breakfast. A small amount of water is okay for the morning. Should your pet require additional pre-operative care, our veterinarian will discuss with you exactly what to expect and how best to prepare.
Following the surgery, all pets are kept for observation while the anesthesia wears off. If the procedure was routine, such as spay or neuter surgery, most pets will be ready to go home by late afternoon. In some cases, such as more complex orthopedic procedures, pets will need to be kept overnight. We monitor pets closely for potential complications and only release them home when we feel it is safe to do so.
After surgery, all pets are sent home with detailed post-operative care instructions as well as pain management medication. We take pain management very seriously and are actively concerned about keeping your pet as stable and pain-free as possible. In most cases, the biggest challenge with post-surgical care is keeping pets quiet and resting. For example, following spay and neuter procedures, many young puppies and kittens will want to be playful and are ready to be active just a few days following surgery. However, since your pet's stitches will not have fully healed, it is important to keep your pet calm and quiet.
Should your pet experience any unforeseen complications, we advise pet owners to immediately contact our veterinary clinic in Durham. Our veterinarians in Durham are always available during regular hours for urgent and emergency care. In some cases, however, should an after-hours emergency occur, our veterinarian in Chapel Hill and Durham may need to recommend the nearest emergency veterinary hospital. We are committed to doing everything possible to protect your pet's health.
---
Related Pages