Many Pet Allergies Afflict Our Furry Friends
While most humans understand the common threats that allergies pose for humans, we often overlook the impact of pet allergies on our dogs, cats, and other family pets. Allergies afflict animals of all kinds and can run in seasonal waves or last all year. Our veterinarians at New Hope Animal Hospital in Durham can diagnose and treat the allergies that make your beloved family pet miserable.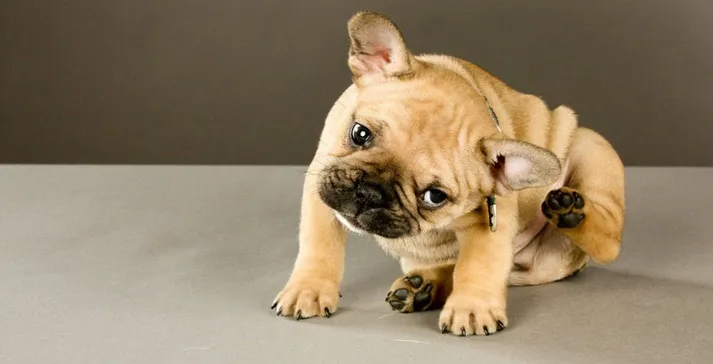 The Four General Types of Allergies
Pet allergies occur due to many common causes and sometimes have more than one that makes your pet feel and act miserable. When your pet suffers from an allergic reaction, your pet is usually afflicted with one or more of four common types of allergies.
Flea infestations
Direct contact allergens
Food sensitivities
Airborne pathogens
The symptoms of each often are remarkably similar and can make it difficult to detect. Fortunately, trained veterinarians who are experienced with treating common allergies in pets can identify and prescribe a correct course of corrective medicine.
Common Pet Allergy Symptoms
No matter what is affecting your pet, you will likely notice several common symptoms of allergies. Those include sneezing, wheezing, itching, scratching, a lack of activity, and even flatulence. Airborne allergens and those that spread via direct contact often exhibit highly similar symptoms of glassy eyes, running noses, sneezing, wheezing, and similar respiratory issues. A flea infestation will be obvious by signs of flea bites, fecal matter, and fleas themselves on your pet. Food sensitive allergies can have widely varying effects but often show themselves via sick pets and unpleasant odors.
How to Treat Pet Allergies
A variety of treatments and medicines can help your pet to fully recover and prevent recurrences of various allergies. Pet washes, drops, and brushing can help soothe and overcome the effects of fleas and contact allergies. Medicine might be required for airborne allergies, while a change in diet is certain to help your pet overcome any food allergies. Diagnosing and correctly identifying the causes of various pet allergies is critically important to ensure a cure and prevent further problems.
New Hope Animal Hospital in Durham can help your pet overcome the many localized allergies that are common in the area. Our veterinarian will let you know what is happening with your pet, the cause of the allergic reaction, and the best course of action to defeat the allergy to help your pet resume his or her happy life. Call us today at (919) 490-2000 or use our online scheduler that will let you pick a day and time to bring your pet in for allergy treatment.