Veterinary Services FAQs in Durham, NC
Answers from Our Durham and Chapel Hill Emergency Veterinarian
When your pet runs into trouble and you need a Chapel Hill or Durham emergency veterinarian right away, you may find it difficult to think clearly and pose all the questions you'd like to ask. That's why our emergency veterinarian in Durham and Chapel Hill has devised this FAQ page. Take a look at some the common questions we answer at our veterinary emergency clinic, New Hope Animal Hospital.
What qualifies as a veterinary emergency?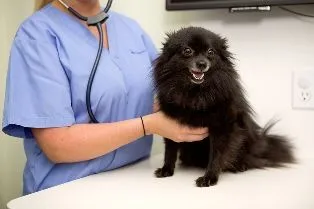 Certain scenarios should signal a visit to our Durham or Chapel Hill emergency veterinarian. Significant blood loss, for instance, could cause your pet to go into shock. Fractures, neurological symptoms, choking, loss of vital signs, fainting, and severe vomiting or diarrhea need to be treated as emergencies. If your pet has trouble urinating, he might have a dangerous obstruction that requires immediate care. If your large-breed dog has the "dry heaves" after a meal, he might be suffering from a dangerous twisting of the stomach, also known as gastric dilatation volvulus. Labor in which the puppies and kittens appear hours apart may require emergency intervention from our emergency veterinarian in Durham.
What can I do to provide immediate aid? While rushing your pet to our Durham emergency veterinarian is usually the first priority, you may be able to help your pet in the meantime. If he is choking, for instance, you might be able to pull the obstruction out with your hand. Heat stroke victims can benefit from being wrapped in a cool, wet blanket before being transported to our emergency veterinarian.
What hours do you see emergency cases? Our emergency veterinarian in Durham is always ready to see any emergency cases during our clinic's standard operating hours. These hours currently extend from 8:00am to 6:00pm Monday through Friday, and from 8:00am to 12:00pm on Saturday.
What happens if my pet emergency occurs after hours? Our Chapel Hill and Durham emergency veterinarian can refer you to two excellent after-hours facilities, Triangle Veterinary Referral Hospital (919-489-0615) and Veterinary Specialty Hospital of the Carolinas (919-600-6600). Your pet deserves the best emergency care possible, no matter what day or time the incident occurs.
Do I need to call ahead to your emergency hospital for an appointment? We understand that the most important thing in an emergency is getting your pet in front of our Chapel Hill and Durham emergency veterinarian. We don't require an appointment or even an advance phone call when time is of the essence.
Learn More from Our Emergency Clinic
If you still have questions about the emergency services at New Hope Animal Hospital, we encourage you to speak to our emergency veterinarian in Durham today. We are standing by to help your pet when disaster strikes, so feel free to contact our emergency clinic for more information.
Contact our fantastic Durham and Chapel Hill staff to learn more today (919) 490-2000.